It doesn't matter why you need installation services for replacing a glass pane, it isn't a problem that can wait. From tips on how to replace a glass pane on a door to having contact info for local glass shop contractors, problems with glass panes in doors demand immediate attention.
Damaged or broken glass panes present several concerns. The first and foremost is most likely the risk of getting cut or injured. A door with a broken or damaged glass pane is an obvious hazard that requires attention sooner rather than later.
Another concern regarding damaged glass panes is the lack of safety your door now provides. Broken glass in door panes enables potential access for would-be criminals, and damaged glass panes are easier to break too.
Replacing a Glass Pane
If you have a broken or damaged glass pane and want to tackle replacing a glass pane in your door, there are some things you should know. Here are some tips on how to replace a glass pane on a door if you are doing it yourself rather than calling a glass company.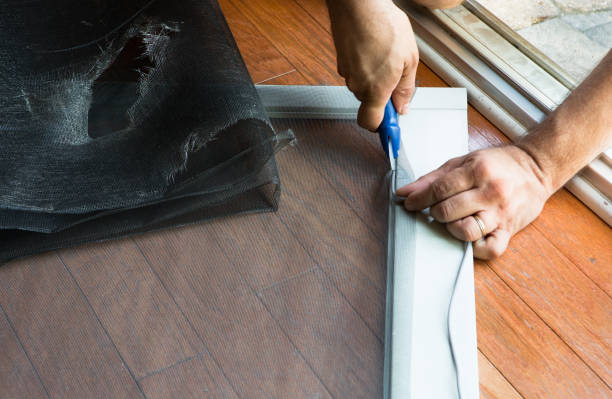 Remove the Door
Anyone who has replaced their fair share of home glass and any professional contractor will advise you to remove the door from its hinges and place it on a stand or flat covered surface. This will allow for easier access, glass removal, and more safely replace the glass pane.
Remove the Molding
Glass panes are held in by wood molding designs. Removing the molding is a fairly straightforward process. There are also a few methods for this step, so find a technique you are comfortable using. Tip: Set the molding aside in the same way it came out to make it easier to put the pieces back in the same location.
Replace Glass and Molding
Once you have removed the molding, carefully pry, lift and remove the old glass. If the glass is broken, be sure to wear the proper gear and use extra caution when handling the glass. Now, put the new glass in and then replace the molding.
Putty knives, screwdrivers, safety gear, silicone caulk, and pliers are the most common tools used for removing glass panes. In most cases, you can safely remove and replace a glass pane in about an hour. Remember, though, it isn't a race, and glass demands a little extra care. And don't forget that hiring professional installation services can save time, work, and cleanup.
The Glass Shop: Professional Window Installation Services
Welcome to The Glass Shop. We are a window installation company, and we have been serving the community of El Paso since 2000. We focus on residential glass and energy-efficient windows, in addition to auto glass and retractable awning installation.
In addition to the highest quality of work, our customers also appreciate our affordable and fair rates. Our customers also have peace of mind knowing that work is 100% satisfaction guaranteed, and each of our products comes with a full warranty. Contact us if you have any questions or to schedule affordable and professional window repair services today.